Home->Products->Flavored Smokin' Dust
SmokinLicious Smokin' Dust is a wonderful way to add flavor to fragile food items like fish and vegetables, which do not require long smoking times. Or, you can use the dust during a long smoking session with meats and poultry to add that extra "kick" of flavor. Smokin' Dust can be used in smoking drawers of gas grills, in stovetop smokers, sprinkled in commercial grade smokers, in cold smokers, and in The Smoking Gun™.

(quality control)
NEW!! We've expanded our variety pack from 4 to 6 options per purchase of Smokin' Dust®. You select the 6 flavors you'd like from our all-natural flavors and our premium flavor-enhanced options. As with all our products, shipping is included. For those using the Mac's BBQ Cold Smoke Generator, please note you will need 2 packages of the small Smokin' Dust® bags to fill the cold smoker unit.
Flavored Smokin' Dust® is made from refined sawdust of Wild Cherry, Sugar Maple, Red Oak, White Oak and/or Ash hardwoods. Remember, only the "heartwood" of the wood is used in our gourmet wood products. You'll know by the smell!!



We are pleased to offer our Smokin' Dust® in a variety of natural flavors that currently include: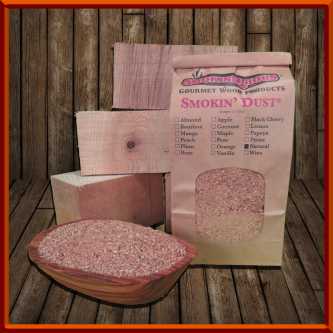 Natural (wood specific specific)Flavors:
Alder
Ash
Beech
Hickory
Wild Cherry
Sugar Maple
Red Oak
White Oak
Standard Flavors:
Apple
Coconut
Lemon
Maple
Pecan
Plum
Orange
Premium Flavors:
Peach
Vanilla
Pear
Almond
Mango
Papaya
Rum
Bourbon
"Dr Smoke" will be adding more flavors in the near future so please check back for updates. Bon Bar-B-Q from SmokinLicous
A recent testimonial provided to SmokinLicious by Ricky N. :
"Just smoked my second piece of bacon but this time I used coconut sawdust. There's a lot of coco lumber here and they give it away. Well, it turned out lovely; a nice mellow, smokey taste, not as strong as mahogany, but very good. Going to try it on some fish and cheese next. I think it will suit them better, but if anyone wants a sweet, mellow taste on their bacon, I would suggest coco sawdust!"
A recent testimonial provided to SmokinLicious by Dave Witt in West Seneca, NY :
"I mixed about 3 tablespoons of Smoking Dust with my regular cherry wood sawdust. I had no issue with the temperature going hotter. I was a bit concerned when I opened the bag of dust... I was worried that because it was so fragrant that it would overpower the finished product. Instead it brought to the forefront the subtle flavor of what wood type was being used. You have a very good product there and I'm looking forward to trying it on my offset soon."
George of Hendersonville, NC was ready to throw out his Electric Smokehouse after results left him with an acid taste to his meat. Then he remembered that the Meat House he worked in as a child had an automated smoke locker that used smoking dust for their bacon, hocks, and necks. So, he decided to give our Smokin' Dust a try:
"Your smoking dust is the perfect match for this smoker. Two tablespoons every 4 hours no mater what your cooking. Chicken halves took 4 hours at 300 degrees with only 2 tablespoons of Dust. Pork butt 12 hours at 225 degrees with 2 tablespoons of dust every 4 hours. Well, your being the Doctor of Smoke you see what I am saying ... Your Dust Rocks!"
Go to Match your Cooker for suggestions on products for your cooker!
FedEx Ground Shipping is Included in our Pricing (Average shipping time is 2-5 days).
"Natural (Wood Species Specific) Smokin' Dust"
$13.60 US


Shipping - Included
(in the continental USA)


"Flavored Smokin' Dust"
$13.60 US


Shipping - Included
(in the continental USA)


"Premium Flavored Smokin' Dust"
$14.74 US


Shipping - Included
(in the continental USA)

Smokin' Dust
6-Pack Variety
$15.65 US

Each Package Volume = Approx. 8.06 cubic inches


Shipping - Included
(in the continental USA)




To our UK friends and customers-- SMOKINLICIOUS.CO.UK-- is now up and running!!!


click the flag:

---
© Copyright, Smokinlicious.com. All rights reserved. Designed by
Blumenthals.comOlean, NY & Bradford Pa.
- Powered by RapidWeb